Reliable Pest Control For Atlanta, Georgia Property Owners
Settled in the foothills of the Appalachian Mountains, the city of Atlanta is Georgia's largest municipality. Atlanta has a humid, subtropical climate with moderate temperatures that rarely go to extremes. With long, hot, muggy summers and short, mild winters, Atlanta has four distinct seasons – though the summer often extends into October. Although generally sunny, Atlanta has a high elevation and, therefore, experiences a fair amount of rainfall. The combination of warmth and humidity makes for perfect pest conditions.
If you own a home or business in the Greater Atlanta area, you know that a pest infestation can be one of the biggest headaches you'll ever have to deal with. The pest-conducive climate attracts many common pest invaders such as ants, cockroaches, rodents, ticks, termites, wasps, and many more. The good thing, is you're not alone! The dedicated team of pest control professionals at Hawx Pest Control is here to help. Founded in 2013, Hawx Pest Control has since become an industry leader in hassle-free extermination and prevention services. We utilize the latest techniques and premium quality products like Bayer Solutions to provide our customers with the very best in pest control services.
Home Pest Control In Atlanta, GA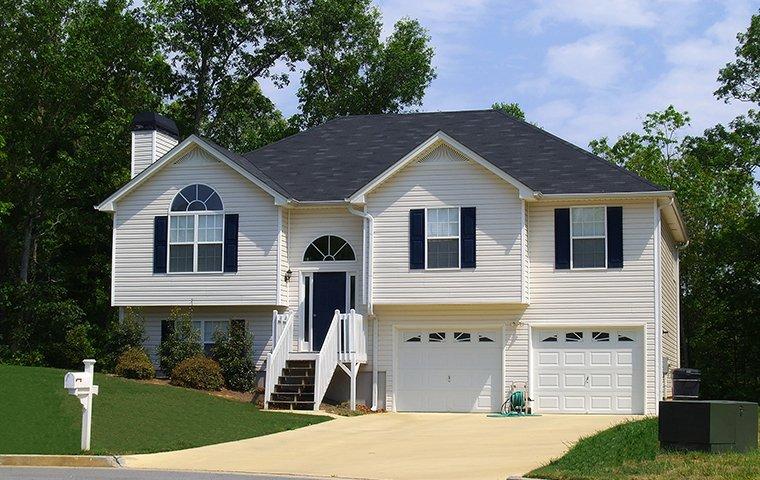 Nobody wants to deal with pests in their home but, unfortunately, there are many common household pests that you and your family will likely encounter. These pests present a variety of challenges for homeowners, from destroying your property to spreading nasty, dangerous diseases throughout your home.
From older homes to new construction and temporary rental properties, Hawx Pest Control has you covered. We offer a full range of residential pest control services that take you every step of the way: from initial inspection and pest identification to customized services and any necessary follow-up. We offer long term protection from cockroaches, fleas, ticks, moles, and many other common Atlanta area pests.

Our bimonthly and quarterly home pest control options allow you to pick the best plan for your individualized needs. We offer free estimates, and after our initial service visit, we guarantee a follow-up within 30 days.
Commercial Pest Control In Atlanta, GA
Hawx Pest Control branched out into providing commercial pest control services in 2016. Since then, we have grown our quality services utilizing the best technology and to-of-the-line products to treat all Atlanta area businesses and rid them of pests for good. We construct a specific commercial pest control plan to fit your individual needs. In fact, for our initial inspection, a service manager or branch manager will go out and personally inspect your property to provide you with the best quote possible. We also offer free re-services between scheduled visits to guarantee your satisfaction.
Some businesses covered by our commercial services include the following:
Apartment complexes

Banks

Food production facilities

Grocery stores

Movie theaters

Storage facilities
Assisted living facilities

Churches

Golf courses

Hotels

Restaurants

Warehouses
Who Else Wants To Avoid Fire Ants In Atlanta, GA?
Fire ants are more prevalent following a rainy period, which means we are more susceptible to an infestation of fire ants here in Atlanta, where we have heavy rainfall. Atlanta is a paradise for fire ants, where heat and humidity come together to create an ideal environment. In fact, they say there are an estimated 10 million fire ants in the state of Georgia alone! Fire ants typically nest in open areas outdoors like parks, fields, or yards. They are known for building very large mounds that can reach up to 18 inches tall. One mound can house up to 200,000 ants. Their colonies extend far underground and have multiple queens meaning they breed quickly, and their colonies can spread at rapid rates.
The thing about fire ants is that they sting; for instance, if you disturb a fire ant mound, they will spill out – ready to attack. Each fire ant can sting repeatedly, causing considerable pain and even causing allergic reactions that can lead to hospital visits and, in rare cases, death. Enough fire ant bites can actually kill a small animal. These pests are originally from Brazil and love the warm conditions in the Southeastern United States. If you are experiencing large populations of fire ants living on or around your property, the experts at Hawx Pest Control are equipped and ready to help!
The Secret Of Preventing Termite Damage In Atlanta, GA
Another common Atlanta area pest in the cellulose-hungry termite. These pests may be small, but they are extremely destructive. The most common type of termite in the Atlanta area is the eastern subterranean termite. They can sneak into tiny cracks and crevices and begin feeding on any items in and around your home that contain cellulose.
Termites build their nests in wet wood and make tunnels in the soil to travel to other nesting sites. They look for wooden items to feed on like trees, branches, and decayed or damaged wood. Once they get inside your house, they make themselves at home in crawl spaces, basements, chimneys, attics, porches, decks, sheds, and wood siding.
To decrease your chances of suffering from a termite infestation, you may want to consider implementing the following changes:
Repair leaky pipes and broken faucets

Eliminate sources of standing water

Eliminate wood to soil contact

Reduce food sources

Seal entry points

Exclusion repairs

Eliminate leftover wood

Maintain proper drainage

Install ventilation to reduce humidity

Use a concrete base as a barrier around your foundation
The most effective way to treat a termite infestation and prevent one from happening in the future is to get regular inspections by a professional pest control company. Here at Hawx Pest Control, we offer year-round termite prevention that will keep those intruders out of your house or business once and for all. From older homes to new construction considerations, our services have you covered. We provide interior and exterior treatments, including lawn and garden termite prevention that ensures your property is entirely pest-free from the inside out. Contact Hawx Pest Control to request pest control services in Atlanta, GA today!

Schedule Your Free Inspection
Complete the form below to schedule your no obligation inspection.
Get Started With Hawx Pest Control Today
See what makes Hawx, LLC the trusted expert in pest control across 10 states!