Reliable Pest Control Options For San Antonio, Texas Property Owners
San Antonio is a large city located in south-central Texas, known for its rich colonial heritage. To keep your San Antonio home or business property free of the many pests that also live here, the experienced pest technicians at Hawx Pest Control offer effective, friendly, and long-term pest control solutions.
At Hawx, we understand the stress and frustration that pest infestations bring to your life. We have in-depth knowledge about the most common pests in San Antonio and the tools needed to prevent them from taking over your home or business. If you need help with your pest problems, the San Antonio pest professionals here at Hawx Pest Control have what it takes to provide the most advanced pest control services to keep pests away from your San Antonio property year-round.
Home Pest Control In San Antonio, TX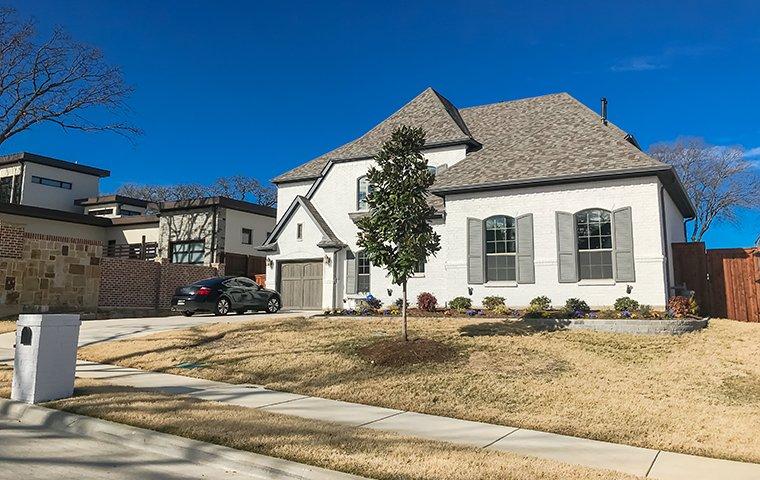 Here at Hawx Pest Control, we dedicate ourselves to protecting homeowners, their families, and residential properties from dangerous and destructive pest infestations. Your San Antonio home is no place for pests, which is why you should always implement an effective home pest control plan for your property as soon as possible. When you turn to the pest technicians here at Hawx Pest Control for all your residential pest control needs, you won't be disappointed.
At Hawx, our pest control services always include the latest pest control technologies and advancements. If mice, rats, cockroaches, mosquitoes, or other pests are causing problems in or around your San Antonio home, Hawx Pest Control can get rid of them. We will work with you to develop a home pest control plan that meets your needs.
Give us a call today to learn more about how our residential pest control plans can protect your San Antonio home from pests.
Commercial Pest Control In San Antonio, TX
As a San Antonio business owner, your goal is to provide quality products and services and keep your customers coming back for more. When pests invade your commercial facility, they can damage your inventory, property, and reputation. Your customers won't trust your business if they start noticing mice or cockroaches running across your floors. Pests can disturb your customers and spread dangerous diseases into your commercial facility.
If pests are causing problems in your San Antonio business, the best way to deal with them is by contacting the licensed pest experts here at Hawx Pest Control. No matter what pest problems you're facing, we have what it takes to remove existing pest infestations and defend against future pest activity. Reach out to Hawx Pest Control today for more information about all of our commercial pest control services and solutions.
Spider Prevention Tips For Every San Antonio, TX Resident
Spiders are pests that no one wants to find crawling around their home or business. Many spider species live here in San Antonio, but the most common are grass spiders, wolf spiders, woodlouse hunter spiders, orb-weaver spiders, and cellar spiders. When it comes to preventing spiders from getting into your residential or commercial building, it's important to understand why they're there in the first place. Spiders typically invade properties with existing insect populations because insects are mainly what they eat.
Here are some prevention tips that will keep spiders out of your San Antonio home or business:
Seal any cracks or crevices located around your foundation and exterior walls.

Get rid of tall grass, weeds, and brush.

Clear away any cobwebs you find.

Remove clutter from the interior and exterior of your property.

Eliminate sources of excess moisture to avoid attracting insects and spiders to your property.
Keeping spiders away from your San Antonio property isn't easy, but with the help of the professionals here at Hawx Pest Control, you can have a spider-free property in no time.
What Everyone Should Know About Mosquitoes In San Antonio, TX
Mosquitoes are the uncomfortable part of warm weather that no one wants enjoys. These tiny flies feed on the blood of humans and animals to nourish their eggs. When it comes to mosquito infestations, it's essential to realize that mosquitoes are much more dangerous than they appear.
Some of the facts that you should know about mosquitoes include the following:
Mosquitoes like moisture, which means you can help prevent mosquitoes by removing elements that may cause excess moisture build-up.

Mosquitoes transmit many serious diseases, such as West Nile virus, yellow fever, malaria, and dengue.

In most areas, mosquitoes are most active from late spring to early fall; however, here in San Antonio, mosquitoes are active for much longer than that.
Keeping mosquitoes away from your property is easy when you partner with Hawx. We provide excellent mosquito control for San Antonio property owners. Contact Hawx Pest Control today to schedule pest control for your San Antonio home or business!

Schedule Your Free Inspection
Complete the form below to schedule your no obligation inspection.
Get Started With Hawx Pest Control Today
See what makes Hawx, LLC the trusted expert in pest control across 10 states!