Are Biting Mosquitoes Driving You Out Of Your Backyard?
Mosquitoes are arguably the most annoying insects on the planet. The way they buzz in your ears, swarm around your body, and leave you covered in itchy bites is enough to drive even the bravest outdoorsmen back inside. Mosquitoes are also quite dangerous; they spread many diseases through their bites, including West Nile virus and yellow fever. If you have a lot of mosquitoes in your yard or around your home, it may be time for mosquito control service from Hawx Pest Control.
Our Mosquito Control Process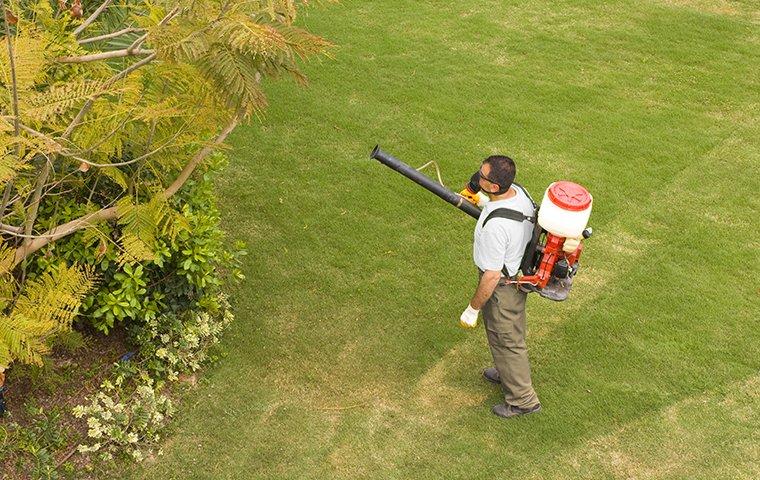 Our mosquito control service is a recurring treatment plan offered between April and October when mosquito activity is at its peak. We begin with an inspection of your property to identify the areas with high populations of mosquitoes. We then use a backpack fogging machine to treat your entire yard, focusing mainly on areas with a lot of mosquito activity. We'll also address areas of standing water that do not contain active wildlife to target mosquitoes at all stages of development.
What sets our mosquito control treatments apart from other companies is our continued rotation of the products we use throughout the season. By using different products for each treatment, mosquitoes cannot become resistant to them, making each treatment more effective.
If you are on a recurring treatment plan and have a special event coming up, we will perform a knockdown treatment before the event to ensure that your time spent outdoors is pleasant.
Get Back Out In The Great Outdoors
Whether you love to barbeque, play outdoor games, or relax on your deck, mosquitoes shouldn't stop you from enjoying your property. With mosquito control from Hawx, you'll see a drastic reduction of mosquitoes around your home, making it possible to spend your time doing the things you love. Schedule mosquito control services today!

Schedule Your Free Inspection
Complete the form below to schedule your no obligation inspection.
Our Services
Proven methods, certified technicians, and the best products and services available make Hawx the smart choice for even the toughest pest problems.